Updated: July 12, 2022 by Jennifer Munsell
Bearded dragons need a place to "sun" themselves in their enclosures. They spend a lot of time doing this, so it is important that you get the best bearded dragon basking platform for your pet!
Bearded dragons are ectothermic like all reptiles. This means they cannot generate their own body heat and rely on external sources of heat to warm them, keep them cool, and help them regulate their metabolism. The hottest spot in their enclosure is the basking spot.
The products we analyzed had to be able to withstand the 90°F heat, comfortable enough for your bearded dragon to lay on, and safe enough not to burn your bearded dragon's sensitive belly. They all look appealing in an enclosure setup, too!
TOP PICK

The Zilla Reptile Habitat Décor Basking Platform Ramp is our overall best bearded dragon basking platform because it is simple, pet safe, and very durable.
Reviews of the Best Bearded Dragon Basking Platform
This Zilla basking platform is the best overall choice for our list of bearded dragon basking platforms. This is a simple, affordable, attractive, sturdy basking platform that is well-loved by beardie owners.
This product is a regular rectangle shape, which means it can fit into any enclosure in any position without compromising too much floor space.
Key Features
Made of quality, durable resin heavy enough to not be tipped over
Weighs 3.6 pounds
Textured surface is ideal for your bearded dragon's claws to grab onto
The resin design means this basking platform is very easy to clean. Scrub it down in some warm, soapy water, rinse it off, and let it dry. It is that simple. The resin is pet-safe, so you know that no harsh chemicals will be released during the washing process.
The resin is heat-resistant and will not melt or deform under the heating bulb, which makes it the perfect basking spot.
Pros
Sturdy
Natural looking
Easy to clean
Durable
Good value for money
Bearded dragon-safe surface
Cons
Some reviewers stated the product came broken
This Zilla Basking Platform is the perfect basking platform for bearded dragons. It is stable, sturdy, and safe on their bellies while also being easy to clean and very durable!
The one is a hollowed-out pine log. Pine is usually unsafe for reptiles because it has oils in it that cause respiratory illness. However, if you boil and then bake it, the oils are neutralized.
The log is real wood, so it is very aesthetically pleasing to the eye. The bonus is that it is completely natural, and you do not need to worry about other chemicals, sealants, or paints from it peeling off over time.
Key Features
Measures 10(L) x 8(W) x 4(H) inches; ideal for hatchlings and juveniles
Can be combined with another log when your beardie grows
Won't burn your beardie's belly, since wood doesn't reflect heat
This product serves two purposes! It is a basking platform as well as a hide! This saves a huge amount of space in your bearded dragon's enclosure, as they can bask on top of the product or hide away underneath it and still be nice and warm!
The product is sturdy and will last a long time. It is ideal for a bearded dragon's enclosure, as they only need 20% to 40% humidity. This is too low to cause the wood to rot like it would in a reptile's enclosure that requires a much higher humidity level.
Even though it is natural wood, this product is very easy to clean. Simply scrub it in some warm, soapy water, and then bake it in the oven until it is completely dry.
Pros
Natural
Dual function as basking platform and hide
Can add on as your beardie grows
Easy to clean
Sturdy
Durable
Cons
Some reviewers state the size varies
This Fluker's Medium Animal Hide is ideal for your bearded dragon's enclosure. The real wood provides a very natural look to the enclosure and helps your bearded dragon feel right at home!
This is a perfect way to include a basking platform in the enclosure without sacrificing floor space at all!
The product is made out of handwoven seagrass! This means it is 100% natural and safe for your bearded dragon! The product is designed to be attached securely to one of the corners in your bearded dragon's enclosure with suction cups.
Key Features
Has a small ladder for your dragon to climb on
Made of natural seagrass
Material is textured enough to help with shedding but gentle enough to be comfortable on your beardie's belly
The Lizard Lounger Corner is very durable and, once set up properly, very secure. The surface of the enclosure must be cleaned as well as the suction cups. Once completely dry, the suction cups are very durable and will hold your bearded dragon up while they bask.
The seagrass needs to be spot cleaned with the rest of the tank. However, most messes miss the actual fibers. When it is time to clean it, giving it a scrub in some warm soapy water, rinsing it thoroughly, and allowing it to dry in a warm oven with the door open is perfect.
The lounger does not absorb heat, which means your bearded dragon is not at risk of being burned by being in contact with a hot surface.
Pros
Ideal for low humidity needs
Sturdy
All-natural
Saves on floor space
Cons
As it is made of natural fibers, all products are not identical
This Penn-Plax "lounger" is great for beardies who love to climb. It is durable, comfortable, and best suited to your beardie's low humidity needs.
The Niteangel Bearded Dragon Hammock Reptile Lounger is an all-natural option for a basking platform for your bearded dragon.
This lounger is made out of hand-woven seaweed! It is gentle on the sensitive skin of your bearded dragon's belly and will not catch on your scaly friend's claws.
The lounger is fairly thick, so it is very sturdy, even for heavier adult bearded dragons!
Key Features
Can be set up in various different ways
Made of soft yet sturdy all-natural seaweed fibers
Sturdy and fits bearded dragons of all sizes
It is very easy to install this lounger. Simply wash and dry the sides of the enclosure as well as the super strong suction cups and place them exactly where you want them to be.
Climbing around on the lounger will require your bearded dragon to focus, use lots of its muscles, and problem solve. This makes it an excellent piece of enrichment fun in your beardie's enclosure!
Pros
All-natural
Sturdy but flexible
Durable
Encourages enrichment
Easy to clean
Good value for money
Top-class suction cups
Cons
Not all bearded dragons are fans of loungers
The Niteangel Bearded Dragon Hammock Reptile Lounger is an excellent basking platform that looks great, is comfortable yet enriching to use, and is made of all-natural, easy-to-clean materials.
The PENN-PLAX Reptology Shale Scape Step Ledge is available in many sizes so you can find the best one for your bearded dragon!
The Shale Scape Step Ledge has a very natural look. It looks like a rock formation with some green moss growing in the cracks.
The surface of the product is rough with many natural-looking cracks, which provides an excellent gripping surface for your bearded dragon's claws.
Key Features
Made of durable, pet-safe and water-safe resin
Sturdy and heavy with a wide base
Has a natural, aesthetically pleasing look
Bearded dragons love exploring, and that is what this basking platform provides. There is a flat area at the top as well as two additional flat areas on the sides of the platform, which gives your bearded dragon options on where to sit as well as different heat levels.
Underneath the top flat area, there is a little cave-like structure that encourages exploration and is enriching to bearded dragons.
Pros
Heavy-bottomed
Multiple levels
Natural-looking
Good grip
Enrichment opportunities
Easy to clean
Cons
Awkward shape
Edges may need to be filed down
The PENN-PLAX Reptology Shale Scape Step Ledge is a multi-level, natural-looking basking platform made out of resin. It is the perfect basking platform and play area for young to juvenile bearded dragons.
The Penn-Plax Reptology Hideout is the larger version of the previously listed Penn-Plax product, and includes five different entrances to the small cave hidden inside.
These various cave entrances provide your bearded dragon with a great way to explore and exercise their brains. Therefore, this product is not only a basking platform but also an enriching exercise area!
Additionally, the cave inside of the basking platform allows your bearded dragon to have an additional hideaway on the warm side of their enclosure without sacrificing any more floor space!
Key Features
Made of high-quality pet-safe and water-safe resin
Has multiple levels
Has a cave under the basking platform
This product is bottom-heavy, which means it cannot be tipped over easily. We know bearded dragons can be quite chunky, so having a sturdy and durable basking platform in their enclosure is essential to avoiding accidents.
Pros
Heavy-bottomed
Easy to clean
Natural looking
Provides enrichment
Dual purpose hide and basking platform
Cons
The edges may need to be sanded down
This Penn-Plax Reptology Hideout is the ideal basking platform for medium-sized bearded dragons. It is natural-looking, provides great grip, and will help you enrich your beardie to stave off boredom!
This one is another great basking and hideaway spot for your younger bearded dragons.
Having a spot to hide away is essential for bearded dragons, especially small ones. However, it can be difficult to fit in a basking platform and a warm hide in a smaller enclosure. That is why this product is ideal because it is the best of both worlds!
Key Features
Combines a hide and a basking platform in one structure
Ideal for smaller bearded dragons
Textured, rock-like surface is perfect for your dragon's claws but soft enough for their belly
This product is made of a high-quality resin, which makes it very heavy. This is great because it means it will not topple over when your bearded dragon is climbing onto it!
The resin is also pet and water safe! It is resistant to your basking bulb's intense heat and will not release harsh chemicals when it is being washed.
Pros
Heavy and won't tip over
Natural-looking
Good grip
Smooth on the belly
Easy to clean
Dual nature of basking platform and hide
Cons
Too small for an adult bearded dragon
The ZHEQOGZH Reptile Rock Hideout is ideal for young bearded dragons who need a place to bask as well as a place to hide away from the stressors of beardie life.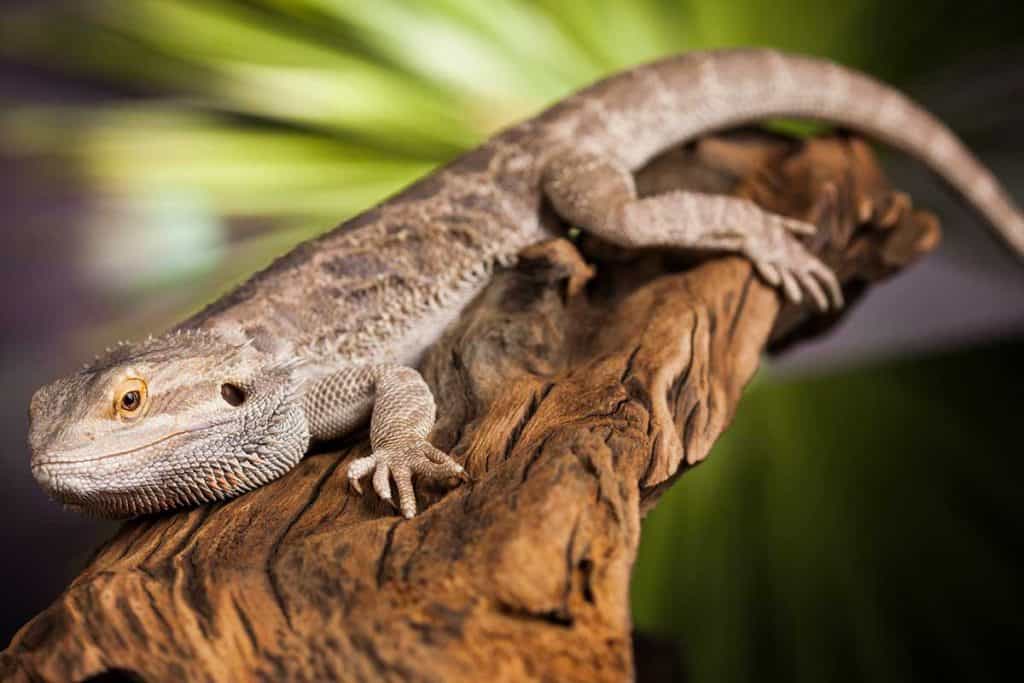 How to Choose the Best Basking Platform for Your Bearded Dragon
Choosing the best platform for your bearded dragon can be a stressful process because you're not sure of what material the platform should be, how big it should be, or what it needs to look like to make your beardie happy.
Not to worry, we've got you covered! Here is a breakdown of what you should consider when buying or making your own basking platform for your bearded dragon.
What Should the Platform Be Made of?
Ideally, you should choose a platform that is made of something that will not rot easily. Even though bearded dragons need a low humidity range of 20 to 40 percent, persistent misting can lead to wooden basking platforms rotting.
Wooden platforms should only be considered if they have been treated to remove any and all natural oils. You would do this by boiling and then baking them. If the natural oils remain in woods like pine or cedar, they'll be released into your bearded dragon's enclosure and damage their skin and respiratory system.
Natural rock is a good option for basking platforms. The rock will warm up under the basking light and retain the heat throughout the night when the light is off. However, you will need to be aware of the surface temperature of the rock. If the rock gets too hot, it can burn your beardie.
Ceramic and resin platforms are good to use because they will absorb but not reflect the heat of the basking lamp. However, they can be quite rough and uneven and you will therefore need to file sharp parts down.
How Big Should the Basking Platform Be?
Your bearded dragon should be able to fit comfortably on the basking platform so that all of their body has access to the basking lamp. If their tail hangs off of theplatform, it's important to make sure that they will not get caught on the edges or between the platform and the wall of the enclosure.
Does It Matter What the Platform Looks Like?
It does not really matter what the basking platform looks like as it's there to perform a physical function. However, if you have a natural aesthetic in your enclosure then having a natural-looking basking platform would add to the atmosphere.
If you want to add enrichment to your bearded dragon's enclosure, then having a basking platform with interesting patterns or textures on it will help. Pay attention to how your beardie behaves around those patterns and textures to see if they like them or if they do not.
At the Tail End of Things…
Picking the right basking platform for your bearded dragon is essential because your beardie will spend a lot of time in this important part of their enclosure. Bearded dragons need a basking platform that is secure, sturdy, durable, and suited to their size and weight.
The basking platform needs to be pet safe and should be good to look at too! That is why the Zilla Reptile Habitat Décor Basking Platform Ramp is the ultimate winner in this category!